How to get to the Plaza Blanca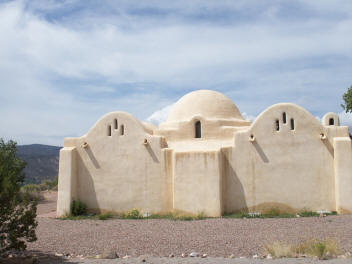 The rock formations are on the grounds of the Dar Al Islam mosque and Islamic education center.
It is only available if you are staying at the center, such as at one of their retreats.
There is NO PUBLIC ACCESS to Plaza Blanca as of Aug 2022.
From the South
An hour north of Sante Fe the site is easily reached by car.
Take US-285 N/US-84 W in a northward direction out of Sante Fe until you reach NM-554N, there is a well known Pizza restaurant, Mamacita Pizzeria, and a bar at the junction. Turning right onto 554 for about 0.6 miles then turn left onto Country Road 155 which is a small but paved track through the desert.
Go three and a third miles (3.3 miles) along this path driving past the small houses of local residents on this back road until suddenly on your right there is a large wooden gateway with the words "Dar Al Islam" and nothing else on them.
Through the gateway is a dirt track which you take for about 0.6 miles until there is a fork in the road and you want to take the right fork towards Plaza Blanca (the left goes to the Dar Al Islam Mosque and Education Center).
Park here and hike the remaining quarter mile into the valley.
From the North
If coming from the north from Colorado then beware that road conditions north of Abiquiu can be bad during winter so check ahead. The route from the south is always open as the road goes through the valley and is cleared as it is a main highway.
Driving from the north you will come to NM 554 going south until you take the same turning onto Country Road 155 mentioned above, and from there the same directions.
Ghost Ranch
These are instructions to get to the Plaza Blanca as painted by Georgia O'Keefe, it will not take you to the Ghost Ranch. That is located 4 miles south.
Plaza Blanca Guide - How To Get Here - Unofficial guide. Not associated in any way with the Dar Al Islam Center or Georgia O'Keeffe's estate