Flowers and Flora of the New Mexico Desert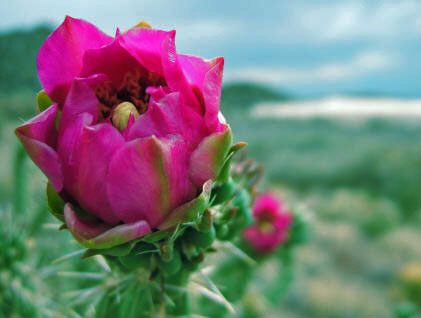 The Cholla cactus (Cylindropuntia kleiniae) pictured looks harmless, and has wonderful bright flowers. Some varieties are pink as in the example while others are yellow or yellow-green. But like all plants with plenty of stored water in the desert the Cholla can defend itself with sharp needles. So it is wise to admire it from a distance.
Desert adapted flora : Ephedra (Mormon Tea), Thistle.
Horse Nettle, Pale Wolfberry as well as "Goat's Head" or Puncture Vine may be found.
Many wild grasses from Windmill grass, Sand Bur to Cheatgrass grow in the sheletered areas.
Sand Sage and Scorpionweed are found here as well as Tumbleweed or "Russian Thistle".
For those with more interest specifically in plants around Albuquerque
http://www.npsnm.org/about/chapters/albuquerque/
Wildlife seen in the area includes: Mice, kangaroo rats and pack rats Swallows, owls, red tail hawks, crows and ravens Coyotes, Bob Cats and Mountain Lions
Plaza Blanca Guide - How To Get Here - Unofficial guide. Not associated in any way with the Dar Al Islam Center or Georgia O'Keeffe's estate