About Plaza Blanca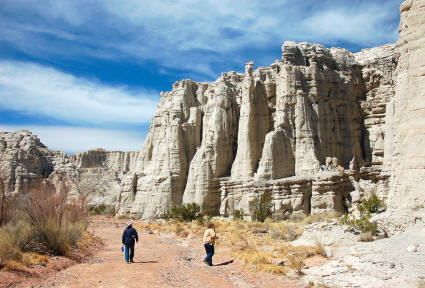 Made famous by local artists Georgia O'Keeffe, these landscapes in a valley of the Rio Chama hills near the village of Abiquiu, when she made a series of paintings about the places she called "The White Place", or in Spanish "Plaza Blanca", this area of New Mexico is now on the grounds of the Dar Al Islam education center and mosque.

Set on private land the center welcomes visitors but does not provide access to the plaza. Sadly for those who wish to view the awe inspiring landscapes which may be known from O'Keeffe's painting or the many motion pictures which have used it as a backdrop this is no longer possible.

There is NO PUBLIC ACCESS to Plaza Blanca as of Aug 2022.
About plaza-blanca.com
This web site is designed to draw attention and provide information on this remarkable piece both of American landscape, but also historic and artistic interest.
It is not associated in any way with the Dar Al Islam Center or Georgia O'Keeffe's estate.
If you have any questions or wish to contact us please use the contact page. Thank you.
Plaza Blanca Guide - How To Get Here - Unofficial guide. Not associated in any way with the Dar Al Islam Center or Georgia O'Keeffe's estate